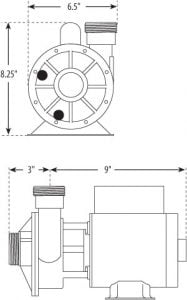 Hottub circulation pumps come in all shapes and sizes. These pumps can often be interchanged or upgraded but please call us for assistance with this.
There are two parts to every pump.
The first is called the motor – which is the electric motor of the pump as the name suggests . You will find a label attached to the body of the motor telling the reader about the performance of the pump.The label should give Spin Speed, Amp Draw,Hp.Voltage and Hz.
The second is called the wet end – This is the plastic impeller part of the pump that is bolted to the body of the motor. This part is replacable but you will need to take some measurements so it can be identified.
The diagram shows typical measurements but you will need to check these against your pump.
Finally there is and inlet and an outlet where the pipes couple to the wet end you will need to measure these again call us for advice . Normally they are 1 1/2″ in and 1 1/2″ out most measurements for pumps are in inches.
Did you know we sell hot tubs and install all over the UK?
The Hot Tub Doctors is well known as one of the UKs most comprehensive hot tub servicing and repair specialists. As of 2021, we now also sell, deliver and fully install the finest hot tubs from all over the globe.

And you can rest assured we have used our full experience and knowledge to choose the very best hot tubs available for the particular job in hand. We have hardwearing hot tubs for lodges and holiday use, party hot tubs for the ultimate in home entertainment, family hot tubs that meet the best of all needs and of course hot tubs for the smaller space and more private requirements.

We have no hidden fees in our hot tub pricing. Everything is included from the steps to the cover lifter and the full water care kit and initial installation. And from there you have the benefoit of the most versatile and trusted hot tub customer care you will find anywhere.